Hey everyone. I know it's been a while since I've written anything. Last month, I was out of the country for two weeks for my cousin's wedding, but I was able to catch up on some new Kpop releases during my vacation. I'll probably make several posts on them when I get the chance.
But, onto today's topic. I was able to attend KCON NY at the Prudential Center for the first time three weeks ago with my best friend. Now, I didn't know what to expect, but I was just really excited to go, since this was our first one, and we came semi-prepared. For future reference, BRING PLENTY OF WATER AND CASH!!!
DAY 1: It was a good turnout on the first day of the convention. Even though it was hot as hell, we were able to go around to different booths to check out what was available for us. One of my favorite booths was the Innisfree booth. Innisfree is a Korean cosmetics brand that has clay masks, sheet masks, serums, and all that good stuff. My friend and I were able to take a picture, which was pretty cool. The whole setup was pretty chill and resembled a little garden.
We also stopped by an AT&T booth, which was also sponsoring KCON. There wasn't much to it, but we did get a free hat and a picture together. But I was glad I got the hat because I've been meaning to get one like it for a while now. Plus, it was free so I didn't have to spend any money. It even has a finger heart on the top, which is so cute.
One of the highlights for me on the first day was meeting Justin Kim. For those of you who don't know who that is, he was a contestant on the 22nd season of America's Next Top Model. He had this collaboration with the8mm, which makes finger heart snapbacks. When I heard his name, I immediately ran in line to get a picture with him. He is the sweetest person ever and he was really nice.
Onto the concert: SF9, KNK, GFRIEND, Highlight, and Zion-T performed on the first night. Now, our original plan was to get better seats, but then Monsta X tickets were on sale the day before KCON NY tickets went on sale, so we got better seats for that concert. So, we ended up getting P5 tickets for KCON, which weren't that bad at all. We got a pretty good view of the concert.
The first night was pretty good. Each act did a good job with their setlist. SF9 covered EXO's 'Call Me Baby' and BTS's 'Boy In Luv,' which I think they did a solid job on. GFRIEND and Highlight did well also. I wanted KNK's setlist to be a little longer because it felt a little short, and I don't remember too much of it. I was surprised by Zion-T because I haven't listened to any of his music before and I don't listen to Korean R&B as much, but he did an amazing job and his songs are really smooth.
Overall, day one was interesting. I had a lot of fun. Oh and before I forget, there were many Kpop YouTubers walking around, and my friend and I managed to get a picture with one of them. I'll tell you who towards the end. 🙂
****
DAY 2: So it's the second day of KCON NY, and it's a bit cooler than the day before, which was a good thing because the heat wore us out. For the second day, I was expecting different booths than the previous day, but it was the same ones. I kind of wish there were different booths. I understand having the same booths from the previous day, for people who didn't get the chance to do everything. But I wish they switched it up a little.
We were able to see UP10TION earlier in the day, since I had a fan engagement with them in the morning, but I missed it because it was raining so hard earlier, so I decided to skip out on it. But, we were able to catch up with them at the Toyota booth in the afternoon, which was pretty cool. One of the members waved at me, and another member was throwing his one arm up and down just like me when there was music playing.
There was this cool thing that I got to do on day 2 that I don't think was there the first day. But at the State Farm booth, you had to fill out a quick survey and got a small electric fan. Also, you get to do some 360 video thing, which was cool.
During those two days, I was able to buy at least three shirts, and I got a cute little headband with a bow on the top that had the South Korean flag printed on it.
Okay, so remember the YouTuber I mentioned that my friend and I found? Well, we met Jess aka The Jess Lyfe. Y'all, this girl is so funny in her videos. She does the usual Kpop reactions, which are pretty funny.  I saw her the day before and I wanted to take a picture with her, but she was way too far. So I saw her pass by us the second day, so my friend and I ran up to her to say hello and told her we loved her videos. Well, I didn't do much talking, my friend did because I was a little excited. She was really nice and sweet.
Onto the concert. The second day of the concert was lit. LIT. When I say lit. IT. WAS. LIT. AF. TWICE, CNBLUE, UP10TION, and NCT 127 performed and I was so excited. UP10TION performed four songs, including their brand new one, 'Runner.' When 'Attention' came on, I legit lost it because that was the song that got me into them. I lost my mind when TWICE came out. I nearly lost my voice from screaming so much for Jeong-yeon, since she's my bias. When it was NCT 127's turn to perform, the whole place lost it. My friend and I were the only ones turning up to their songs in our section. I was milly rockin throughout the whole entire setlist. If I had to describe how lit my friend and I were in one gif, this would be it: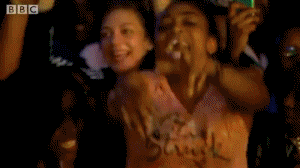 CNBLUE was pretty solid too. Again, I'm not an avid listener of theirs and I'm not into Korean pop/rock bands, but their songs were really good. Plus, Jung Yong-hwa, the leader, was pretty funny and charming. Day 2 of KCON NY was phenomenal.
Overall, I really enjoyed my first KCON experience. Despite the lack of girl groups in the lineup this year, I still thought it was a well-planned event. If any of you do plan on going to KCON next year, NY or LA, here are a few tips I recommend:
BRING PLENTY OF WATER: This is a must. If you plan on going to the convention, you're going to be walking around all day and you're going to get parched. Yes, there are vendors who do sell drinks, some take cash, some take card. Which brings me to my next bullet.
Bring plenty of cash: Lucky enough, my friend and I did watched some past YouTube videos of people who went to past KCON events and they did suggest bring plenty of cash with you. I had enough cash, but I still had to take out some money from an ATM because I over did it with spending. Just bring enough cash because if you're going for the first time, you're going to be spending money on food, drinks, posters, shirts.
Wear comfortable shoes: I'm wearing sneakers next year. Screw flats and sandals.
HAVE FUN: Honestly, don't worry about making a fool of yourself. Everyone is there for the same reasons. Just go and have a good time.
Let me know what your thoughts are on this year's KCON NY 2017. Did you attend? Are you going to attend KCON LA on August 18-20th? Is there anything you would like KCON as a whole to improve? Let me know in the comments section down below: